Trending Tech – Context-Aware Computing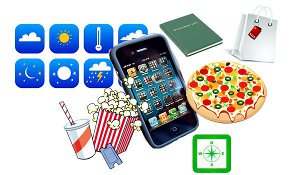 Continuing our #trendingtech series of posts, we take a look at another big technology trend that could give your business the competitive edge: context-aware computing.
Context-aware computing is the next level of consumer experience and big businesses are being urged to jump on board before they miss the boat. Research company Gartner has predicted that by 2015, $96bn of worldwide spend (totalling $9tn) will be affected by contextual data. So, what is it?
Context-aware computing is about user experience, linking different areas of IT to see how they can work together to make applications, content and user experience more relevant to what the consumer is doing at the time.
So to put it simply, by combining location, mobile, wireless and cloud technologies to gather and aggregate the data that paints a complete picture of the client, context aware computing allows your business to anticipate their needs before the customer can even make their request.
Gene Alvarez, research VP at Gartner explained: "Some of the mistakes that businesses are making when getting into context-aware technology is to send a marketing message via SMS and think that this is context aware."
Context-aware computing is all about offering convenience to the user. Essentially, it adds value to the customer when the customer needs it and simplifying the purchasing process can't be a bad thing for your business either!
Who gathers this contextual data?
The four front runners of data aggregation that powers context-aware computing are currently (and unsurprisingly) Nokia, Microsoft, Apple and Google. These four heavyweights have made data aggregation an accepted part of modern technology with informed consent and convenience, more often than not, taking priority over data privacy.
Context-aware computing can be consumer targeted (when a customer checks-in at hotel, the hotel will already know what they are likely to order for their meal, activities they are likely to participate in and further requests they might make based upon their customer experience).
Why will this boost my business?
Alvarez continued: "Context-aware computing is important to organisations as it is the thing that will develop stickiness with their customers. It's a way to build differentiation in the customer experience and to deliver true value to the end consumer."
Basically, context-aware computing hands the customer what they need exactly when they need it – making it more well-received than throwing information their way sporadically, which they are likely to class as spam and ignore.
Context-aware technology makes the purchasing process significantly more convenient for the customer and ensures that your business is at front of mind when they are at the point of needing your product.
What's the downside?
At the moment, this technology is very much in its infancy. Companies are playing with the concept at the moment. Companies need highly-reliable information sources to be able to pilot and experiment with the data and work out what works best for their business situation.
Although the ability to predict what people will do based on their digital habits presents a wealth of fantastic opportunities, sourcing and handling the information needed for context-aware computing is more than a little complex until the concept develops further.