Need a job? There's an app for that!
Flinging angry birds at green pigs, adding filters to your photos and booking a table at your favourite restaurant through an app has become second nature to the millions of smartphone users out there.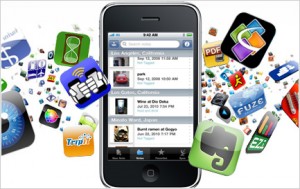 A report released today has revealed that apps are not only useful and entertaining but are also boosting the economy. Since the first iPhone was released five years ago, the subsequent 'app economy' has created more than 466,000 jobs in the US alone.
To put this into perspective, that is enough job roles to employ every unemployed person in the North West (307,000 unemployed) and North East (153,000 unemployed) regions of the UK.
The research, carried out by Arbor Networks and TechNet, revealed that programmers, user interface designers, tech marketers and support roles have seen massive growth from a level of zero in 2007, to almost half a million posts today.
It is not particularly surprising that apps are having such an effect on more than just our entertainment levels, when you consider that Apple's App store has surpassed the 15 billion downloads mark, with the Android store following close behind surpassing the 10 billion downloads post late last year.
There are no figures for app-related jobs in the UK as yet, but considering the demand from companies for apps (everyone has one) and their huge retail figures, an educated guess would suggest the same effect as on the other side of the pond.
With tablet computer sales sky-rocketing and apps being integrated into TVs, desktop computers and any other device they could possibly be squeezed into, the growth of app-related jobs is set to continue.
A further boost to the app-development jobs market is Microsoft's latest Windows development is forecast with the launch Windows 8's anticipated app store, Windows Store.
Windows Store has been crafted to incentivize app developers to develop for the platform – which has yet to take off as quickly as its Apple and Android counterparts – and the incentives are pretty enticing. Developers for Windows Phone will enjoy a 70/30 revenue split for all revenues made from their apps on the platform and if their apps sales gross over $25,000, that split goes up to 80/20 in favour of the developer.
This is bound to pique the interest of many developers who are battling against the tidal wave of competition in the flooded and largely unregulated Android market as well as the heavily-saturated iPhone market that currently has over 500,000 applications.
The 'app economy' in the States generated almost $20 billion in revenue in 2011, according to the study, based on app downloads, in-app revenues, sales of virtual and physical goods and services.
Mid-2011 a Flurry report revealed that the daily time spent in mobile apps surpasses desktop and mobile web consumption.
Will apps soon be the only way that we access the net? Will there be an app for everything?