Race Speeds Up for Fast Internet
As Virgin Media announce that the roll-out of their 'super fast' fibre optic broadband will be completed ahead of schedule,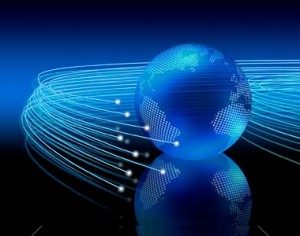 BT has effectively rained on their parade announcing ultra-fast broadband speeds of up to 330Mbps to homes and businesses across the country as early as this year.
BT Group and Virgin Media have long been engaged in a battle to make download speeds of double the current rate readily available during the course of 2012.
Over the next 18 months Virgin has pledged to double its customers' download speeds, with the fastest going from 50Mbps to 120Mbps this summer. BT will double its 40Mbps speed customers to 80Mbps – also ahead of schedule.
The battle for faster download speeds has intensified as the demand for multiple users to stream video, watch internet TV, play online games and use smartphones or tablet computers from the same connection increases.
The UK currently sits outside of the world's 30 fastest countries for internet connections, according to speed testing company Ookla, but Virgin Media claims that its progress with fibre optic broadband and vastly increased speeds will push the country into the top 20, ahead of the US, Japan, France and Germany.
Meanwhile BT announced today that its wi-fi HotSpots have hit 3.5 million across the UK and Ireland making it one of the largest wi-fi networks in the world.
The numbers include more than 380,000 in London, 25,000 in Birmingham and Leeds, around 20,000 in Manchester, Edinburgh and Sheffield, and more than 11,000 in Liverpool, Brighton, Bristol and Cardiff.