SOPA: What is it? How Will it Affect the UK?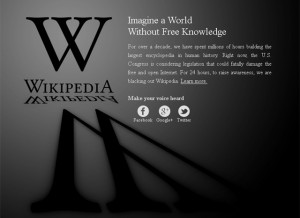 Unless you have been hiding under a rock, you will have heard the murmurs (and more increasingly the shouts) about the Stop Online Piracy Act, or SOPA.
Today thousands of sites are taking part in a #SOPABlackout by taking their sites down, censoring them or generally showing their opposition to the Act which, they say, would have a huge and damaging effect on online business .
Wading through the press coverage, the bill itself and the mass of opinions and conjecture, here is a summary of how an American law could change online business in the UK, what the Act is all about and how it could affect us?
What is it?
SOPA is a proposed piece of American legislation drafted to combat online piracy and prevent American companies having thier intellectual property stolen. The actual Act is complicated; Chris Heald from Mashable described it as spaghetti and that "if a programmer on my team wrote code as convoluted as the Act I would fire them instantly."
Basically, the bill proposes a system to punish sites allegedly "dedicated to the theft of US property." Sites, or single pages, that are:
1. directed toward the US, and either
2. allegedly "engage in, enable or facilitate" infringement or
3. allegedly be taking or have taken steps to "avoid confirming a high probability" of infringement.
Here's how Mashable explains that this could play out:
Plantiff accuses your site of infringement and serves notice to PayPal and Google, et al.
PayPal and Google must shut off your payment services and ad services in 5 days. You are never notified.
If a service provider fails to shut off service, then the plantiff may may now take you to court for infringement.
Once you become aware that you've been accused of infringement, you either a) let your services get cut off by taking no action, or b) serve a counter-notice, which places you under US jurisdiction (if you're not in the US) and sets you up for a perjury charge.
If you respond with a counter-notice, then Plantiff may now take you to court for infringement.
Plantiff accuses your site of infringement, and you don't respond. Plantiff files an in rem lawsuit, and seizes control of your domain.
So before having a judge rule you guilty of an infringement, the copyright-holder could cut-off your ad and payment services and demand the infringing content be removed. If this does not happen, a law suit can then be filed.
How will it affect the UK?
The key lies in the Act's definition of sites "dedicated to the theft of US property."
Any site across the world found to meet this definition could be subject to punishment under the law. Mashable describes this as giving "the government the right to unilaterally censor foreign websites. So any website in the UK that infringes the conditions mentioned above will be affected by the bill."
As The Huffington Post explains: "Search engines will have to comply with the bill by removing links to sites displaying contentious copyright material," whether that is in America, the UK or anywhere else.
If your UK-based site is found to breach copyright, Paypal and credit payment services like Visa and Mastercard can be cut off.
As Jimmy Wales, founder of Wikipedia, points out to the BBC, the Act could have detrimental effects on start-up companies, online entrepreneurialism and innovation overall. He said:"Start-ups that focus on user-generated content may find it hard to gain funding, and will have to devote significant resources to checking all material for copyright."
From a consumer point of view, YouTube, Facebook and other social media sites all fall foul of the bill as users regularly post and share copyrighted material in the form of music videos, film clips, songs and images. SOPA makes it a felony offense to post a copyrighted song or video.
Where Does That Leave Us?
Having already announced that he would remove the DNS blocking and rerouting provisions of the bill (considered the most onerous by many in the tech community), architect of the bill, Republican Lamar Smith has released a statement announcing a mark-up session next month where the bill could be added to and amended.
The statement read by Chairman Smith read: "To enact legislation that protects consumers, businesses and jobs from foreign thieves who steal America's intellectual property, we will continue to bring together industry representatives and Members to find ways to combat online piracy.
"Due to the Republican and Democratic retreats taking place over the next two weeks, markup of the Stop Online Piracy Act is expected to resume in February.
"I am committed to continuing to work with my colleagues in the House and Senate to send a bipartisan bill to the White House that saves American jobs and protects intellectual property."
This suggests that despite the opposition from the #SOPAblackout and President Obama's criticism of the Act in its current form, SOPA isn't dead yet, which means that protests and the opposition will continue until an acceptable edit or replacement can be found.
What do you think: can SOPA be edited enough to make it fairer or should it be completely scrapped?