ZOMG the Dictionary is 100, Woot!
The internet has revolutionised the way that we shop, communicate and work, and now it is leaving a firm footprint in our language.
This week sees the release of the 12th edition of the Concise Oxford English Dictionary marking 100 years since its first edition in 1911, and multiple new additions to the age-old pages are tech-related.
Social media's domination of every-day life has evolved further with many of the dictionary's new entries giving a nod to Twitter and co, notably the inclusion of 'retweet'. For the non-Tweeters out there, to retweet means to forward someone's message on Twitter to your followers. Follower has also had its secondary meaning altered to acknowledge its use to describe social media users.
Following the spate of 'hack-attacks' and the prominence of hacktivists in the news it is unsurprising that 'cybersecurity' has now been included in the Oxford Online Dictionary as well as 'badware' (software that has been installed on a computer without a user's knowledge or control) and 'clickjacking' (the malicious practice of manipulating a website user's activity by concealing hyperlinks beneath legitimate clickable content, thereby causing the user to perform actions of which they are unaware).
Much to the annoyance of the language sticklers out there, 'textspeak' has also been included in this year's edition, with textspeak examples incorporated into the Oxford Dictionary online. Words and abbreviations that once meant nothing (and possibly still do to some generations) have now been readily accepted into everyday language. The most prominent example of this is 'LOL', which in 1960 meant 'little old lady' and now everyone who is anyone knows it means 'laugh out loud' and is used in emails, texts, instant messages more often than 'haha' or simply 'that's funny'.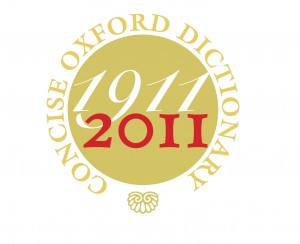 An unusual addition to this year's edition is ZOMG; an abbreviation that originates from forum posters or instant messengers typing too quickly and misspelling OMG, adding the extra Z. This entry has received particular attention from language sticklers on social media sites, who have expressed their exasperation at a 'typo' being included in a dictionary of our language, and if I'm honest it bothers me a little bit too.
There are, as usual, the much-debated, and somewhat amusing, entries (think 'bootylicious' in 2006). This edition's comical inclusions range from 'recessionista' (a person who is able to stick to a tight budget while still managing to dress stylishly) and 'jeggings' (tight-fitting stretch trousers for women, styled to look like a pair of denim jeans) to 'nom nom' (description of eating delicious food), 'fnarr fnarr' (used to represent sniggering, typically at a sexual innuendo) and 'woot' (especially in electronic communication, used to express elation, enthusiasm, or triumph).
It is fascinating to see that a lot of the new entries to the dictionary have been developed and integrated through younger people on social media sites. Have the internet and social media had a positive effect on our language? I'll let you decide.