There is No Such Thing as Bad Publicity
The riots in the UK last week garnered worldwide coverage. Rightly or wrongly, social media took a lot of blame – especially Twitter and BlackBerry messenger (BBM).
During the uprisings in the Middle East, especially Egypt, Twitter took a lot of the credit for facilitating the communication needed to action the uprisings. In these cases the Western media applauded the service and portrayed it as a champion of democracy. Now it is being portrayed as a negative force along with BlackBerry.
I had never really heard much about the BlackBerry messaging service BBM. In fact the most press I have read on it was from last year when the UAE and Saudi Arabia blocked BlackBerry services because of the private nature of BBM – as soon as a message leaves the senders phone it is encrypted and supposedly cannot be intercepted and read by anyone. This is one reason why it was popular during the riots.
Other than this, widespread press about BlackBerry has been scarce in recent years.
The iPhone and Android phones have put BlackBerry into the shadow somewhat. The BlackBerry is still hugely popular though, especially amongst teens and young adults – 37% own a BlackBerry phone. This also appears to be the age bracket most prevalent during the riots.
While obviously the reported use of the BBM service during the riots would not in any way have been what BlackBerry wanted; the resulting press may well have had a positive impact for the company.
Google trends shows how interest in BlackBerry and the BBM service spiked around the time of the riots when national and international news services were reporting on its role in the riots: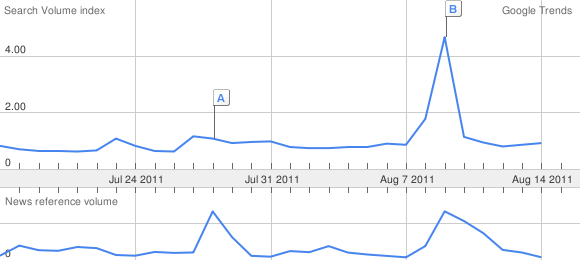 There is an old saying – 'there is no such thing as bad publicity' – and in BlackBerry's case this might be true. At a time when people were glued to news reports, BlackBerry was centre stage. It might have been for all the wrong reasons but it still got their name out there.
I think it would be fascinating to be able to get hold of sales figures at BlackBerry to see whether there is any increase.
What do you think? Do you agree with the mantra of there being no such thing as bad publicity?