Calling the Digital Nation
This is a guest post from Andrew Corbett, membership services director, at the UK IT Association – www.ukita.co.uk
Invisible SME IT majority
As a member and board director of the UK IT Association for the past 7 years, I have had the opportunity to observe at close quarters the private sector IT industry at all levels as well as the public sector organisations which seek to help them and improve their performance.
I would like to put forward my view that the IT ecosystem in the UK is fractured.   There is a glass ceiling between the IT businesses that are known to and have accessed help from things like RDA growth project funds and the huge number of IT businesses who are not on the radar of the policy makers and funders.
IT is an SME sector
How many times have we heard of household names in IT that started out as one or two people working in their back bedroom or garage? IT is essentially an SME industry.
Looking at the Office for National statistics 2010 figures, we see that 96% of the 153,000  IT and communications businesses in the UK employ fewer than 20 people.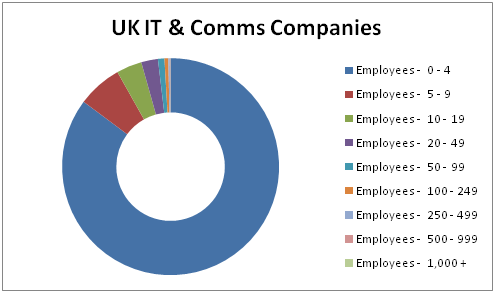 This rather skewed distribution comes into perspective when we estimate the number of employees by doing some rough calculations with the midpoints of the ranges.  Nevertheless, we still see that nearly 50 percent of the employment in IT is generated by companies below the size of 50.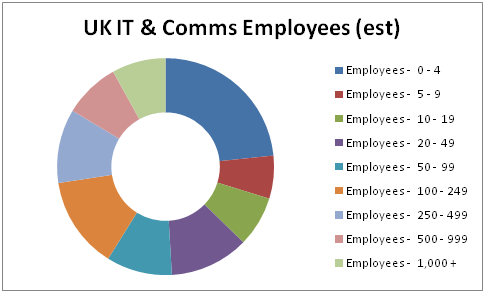 In terms of employment, moving people from the public to the private sector; the over 50's who find it impossible to get interviews  or people returning to work after a career break;  instead of consigning these people to the career scrap-heap we should be looking at recycling them into our IT sector.  We are also told that there is a national IT skills shortage. IT graduates are finding themselves working in supermarkets and not in the supermarket's IT department either!
This is a situation that UKITA is looking to address with our own Recycle Me! project.
Small does not mean 'lifestyle'
Many 'ordinary' looking businesses around the country are involved in high-value activity that one might not expect.
Examples from the UKITA membership include 3 apparently 'ordinary' website development companies in the West Midlands who present themselves to the world as providing standard content-managed websites and ecommerce for local SME businesses. One of them recently did some significant technical work for a dominant search engine company at their offices in Switzerland.  Another husband and wife team has just started a contract delivering a year-long business intelligence project for the investment arm of a high street bank.  While a rurally-based 5-person business has delivered specialised project collaboration extranets for several international household names in insurance, telecoms and broadcasting. These are 3 companies all innovating and mostly not on the radars of the agencies who would like to find them.
What is distinctive is that these companies are most often not funding the R&D and development of their IP through the familiar access to finance routes but by bankrolling their development out of the bread and butter activities.
This may be caused by reluctance to take on the risk of investment and possible diluting of equity and some control or because they simply aren't aware of what is available out there and how to access it.
Growth and development not synonymous
Often development is not synonymous with growth, which is the favoured metric of improved performance.  Growth means employment and as such is highly desirable to policy-makers. Yet if you ask these companies what their priorities are they are more likely to say "sustainable profit margins and new products and markets' than the simple desire to be bigger.  The trend towards looser working structures, collaborations and subcontracting may push commercial space in the IT sector more towards occupying flexible hubs, mobile and home working – the practical and commercial opportunities of this is an area that UKITA's future workplace project is looking towards.
Putting it all together
Each of the Regional Development Agencies (RDAs) created projects which went a good  way to providing a rallying point and a critical mass to attract together  those IT businesses in its region who wanted to raise their game and had the time and personnel required to get involved.  With the loss of the RDAs much of that will be lost and the RDAs' critical mass will fragment into Local Enterprise Partnership (LEPs) areas. This represents a problem for the goal of creating a single UK IT ecosystem but it also creates a possibility driven by need in which science parks, incubators, LEPs, local authorities and educational institutions can each play a part.
A major contributing problem is that the off-the-radar IT businesses and those who would like to reach them are insufficiently visible to each other.  As a grass-roots IT sector business promotion and collaboration organisation, UKITA is already talking to these 'lost' businesses, they are our bread and butter. We are private sector funded from membership fees and subscriptions which makes us very energetic in our mission to engage, talk to and listen to as many of these companies as we can and to find out what their commercial and development needs are.
To help with this, we are launching an ambitious IT census for 2011 which you can find at www.DigitalNation.org.uk.
Science parks, incubators, LEPs, local authorities and educational institutions and others are all invited to join the project.