A Breath Of Fresh Air
The business environment is forever evolving, changing naturally and organically over the years. There are many factors that influence this evolution like strategic decisions but also external factors such as: politics, the economy, social factors, technological advancements, the environment and legislation…
The role of brand identity is to reflect this, to communicate the company's personality, culture and message to the public whilst differentiating you from other players in the market place. It represents your point of view and purpose. So it's important that your brand is able to evolve with the times so that it's an accurate portrayal of your business at any set point in time.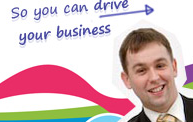 Recently, you may have noticed some significant changes in the design of our website and we're all really excited by the new look. We believe the new "sketch-book" style we have adopted reflects the significant growth UKFast has experienced over the past couple of years. It reflects our dynamic personality, the energy within the company, the great people who work here and our strong focus on customer service and people.  It makes a statement and differentiates us from some of our more corporate competitors, highlighting the flexible, personal service we deliver.
Creating a design that reflects the ambitions of a company like UKFast is difficult, but we're really proud of the work our internal design studio has come up with by moving away from our predominant use of black and using more natural colours and earthy tones. It effectively communicates the personal touch, the innovative and entrepreneurial culture innate within our organisation and the creativity that makes UKFast such a special place to work.
More than anything, the design team has done a great job of illustrating our environmental achievements and hydro-electric projects as the first certified carbon neutral hosting provider in the UK. Providing every single one of our customers 100% carbon neutral web hosting at no extra cost is a feat we are most proud of, and it's essential that our design reflect this.
Ethical consumerism in the UK has grown over 260% over the past 10 years and today one in every two UK adults claim to have purchased a product primarily for ethical reasons (compared to one in every four 11 years ago). With more than 64% of people avoiding a product or service based on a company's behaviour there has never been a more important time to make environmental actions a priority.
This is why UKFast is keen for our customers to share the benefits of our ongoing environmental innovations and we will soon be offering a Carbon Neutral 'Badge of Honour' that can be displayed proudly on websites that are hosted with us. Again, this is in line with our ethos that we are here to support our customers and do whatever we can to improve their business.
We believe that it's people who make the business which is why all of our models (on the website and in our advertising) are real UKFast employees. After all they are the heart and soul of our culture and brand; we hope this is reflected in our new design.