Corona's Facebook Campaign: How to Combine Traditional and Digital Marketing
I recently came across an article in Mashable about Corona Light's new campaign whereby people can use a Facebook App to upload a picture of themselves to a Times Square billboard.
This recent campaign by Corona Light is in my opinion, an excellent example of how to use a joined up marketing approach and reminds me of a comment made by Paul Harris, in March's Marketing Mix Round Table Video. "In my experience, nothing works better than a joined up approach, where you use multiple tactics…"
It conforms to some of the most traditional of marketing principles and applies them using a mixture of conventional and contemporary marketing channels.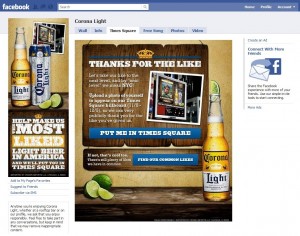 The campaign fulfils several objectives all within a very simple, engaging, fun and original process. It reaches and engages Corona Light's target audience in the very place they like to hang out – Facebook. As users have to "Like" the brand, there is a fantastic opportunity for Data Capture, while the use of social media adds a viral effect to the campaign which then ends up in a very traditional form of advertising: on a billboard.
As Paul then says in the video mentioned above, whether measurable or non-measurable, it is important to take the user on a journey. Corona Light has done this to great effect, with a truly engaging experience for the user which satisfies all of their aims:
Brand exposure
Viral exposure (which also means mass word of mouth recommendations!)
Targeted audience engagement
Data capture
Have a go, it's good fun! Just search for Corona Light on Facebook. :)
A great campaign for a beer that tastes great!