SSL Certificates Explained
It is often important to be sure that the site you are visiting is secure. SSL certificates can guarentee the security of your personal data.
When visiting a site, it is important to look for certain signs to ensure that a site is safe before entering credit card details or private personal information.
A small padlock is normally visible in the bottom right or at top right corners of the screen and means that any data entered in to the site will be secure as it will be encrypted.

By clicking the padlock, you can discover information about the SSL and who it is owned by/ issued to. For example, clicking the padlock on https://my.ukfast.co.uk gives the following information: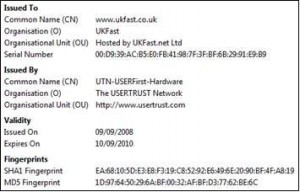 There are also different types of SSL referring to different encryption levels. The most common forms are 40 bit, 128 bit and 256 bit are the most common. But what does this actually mean?
These figures refer to the length of the encryption key required to unencrypt data – for example, 128 bit encryption actually means that the encryption key is 128 digits long. As with passwords, the longer the key, the more possible combinations there are – so the higher this number, the more secure the site.
There are other forms of visual verification on screen that can indicate that the site you are visiting is secured by an SSL. Often the URL for a secure site will begin with "https", the "s" referring to "secure." The company name may also be featured to the left hand side of the address bar, to add extra piece of mind.

Finally, an EV or Extended Validation Certificate provides additional visual information to reassure the website visitor that the site is protected by an SSL. A site with an EV certificate will highlight the address bar in green and will normally contain the name of the Certificate Authority which has issued the certificate and also the name of the company which the certificate has been presented to.

Clearly there are many different types of SSL and many ways to check the security of a site. However, the most important thing is that you can be confident that when you provide personal information online, you are confident that you are using a secure website.