Getting Your Name Out is Still Important
It is no surprise that over the last 18 months marketing spend has decreased as businesses tighten their belts against recession. Spending money on speculating for new customers always seems to be the first expense to be cut back.
However, proving that no businesses can do without any advertising, notoriously ad shy Google has just launched a major global campaign.
The search engine giant is famous for building its empire with very little advertising. It was a rare example of a unique product that does an excellent job and therefore 'sells itself'. But now the "Gone Google" multi media campaign is an attempt to steal away Microsoft business applications customers.
The campaign line "Gone Google" refers to the 1.7m businesses that the company claims have embraced its services, the Guardian reports.
"It is the first and very highly visible integrated ad campaign that we have run," said Dave Armstrong, head of marketing for Google Enterprise for Europe, Middle East and Africa. "Gone Google is a concept that we are at a tipping point where you [businesses] need to move to a new model. Look at how Google has brought products to the enterprise market, we have done it differently than some of the other competitors."
The ad campaign reflects the fact that even the Google brand name is not enough when venturing into new markets. Google apps are not its core search engine offering, so users' acceptance is not guaranteed. They need to be convinced.
Ironically, much of Google's advertising campaign will use traditional media, such as print and billboa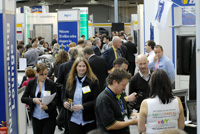 rd.
In a similar vein, UKFast has been embracing more traditional marketing avenues recently. As a web hosting business we do most of our advertising online. However, last week UKFast was the main attraction at Ecommerce Expo in London.
The show represented a significant investment in offline marketing for us but it was a major success for the business. We met face to face with around 2,000 potential clients and partners of the future and the UKFast brand will certainly resonate even more amongst those engage in ecommerce going forward.
What our attendance at Ecommerce Expo 2009 shows is that when planned and targeted, offline marketing can still be very effective.