Sale Sharks Hospitality is the Place to Be
Did you know that the Sale Sharks match day hospitality is the best ticket in Greater Manchester for meeting and mixing with the biggest names in business?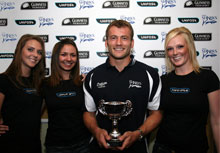 Despite all the top flight football teams, cricket, ice hockey and rugby league in the Manchester area, Guinness Premiership outfit Sale Sharks match days are officially the best hospitality for meeting real industry heavyweights.
It seems that the difference is the shape of the ball on the field. Rugby attracts the decision makers of business more than football, or any other sport for that matter, and its hospitality costs less. So investing in Sharks hospitality delivers an unmatched ROI.
And it's not just about getting an opportunity to meet Manchester's boardroom fillers. Hospitality at the Sharks is legendary for providing a fantastic experience. In addition to prime match seats in the corporate box, attendees receive a three-course meal in the exclusive Insider Suite and, unlike football, get the chance to meet the players after the game.
UKFast is the new main sponsor of the Sale Sharks and as such will be enjoying 28 hospitality seats per home game for the coming season. It all kicks-off this Friday against current champions Leicester Tigers.
UKFast clients can select a match at which to join us by fill in a hospitality form here:https://pdf.ukfast.co.uk/sharks_fixtures09-10.pdf.