UKFast Launches UK's Fastest Servers at the British Grand Prix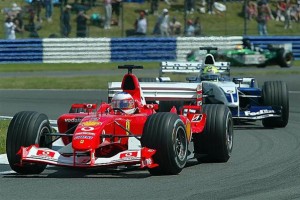 UKFast is at the British Formula 1 Grand Prix today for the first of three days of fun with clients. However, it's not just about enjoying top class motor sport. The fastest racing cars in the world also form the perfect backdrop to UKFast's launch of the fastest servers available in the UK.
Today UKFast's senior management have unveiled the SEO Server, a custom designed hosting unit that is perfect for powering internet business growth. The new hardware, which is guaranteed to revolutionise business online, has everything an operation needs to quickly make a success of their web venture.
It's most important attribute is its fantastic speed. And that means the SEO Server is perfect for quickly establishing high Google rankings and a large, loyal customer base.
Why is this? Well Google rewards websites that deliver a positive user experience and the search giant rates quick loading sites as the most important factor in a good experience. Similarly, customers are more likely to stay loyal to an online business that gives them a consistently swift service. In fact did you know that a 30% increase in page load speed can result in a 30% increase in customers? Or that 51% of web customers abandon slow loading pages?

We are excited about the difference the SEO Server will have and to make sure everyone knows about it we have also launched today the UKFastTrack, a search for the next big online business venture.
The UKFastTrack will give ten entrepreneurs six months free hosting with a SEO Server and associated support worth in the region of £15,000. The ten finalists will be selected from an open application process which starts today! The winner will be the business that enjoys the largest sustained growth over the duration of the competition and their prize will be a further six months free hosting with UKFast.
For more information on how the SEO Server is set to transform the face of online business or to enter the UKFastTrack competition, visit https://www.ukfast.co.uk/seo-hosting-server.html.