UKFast Round Tables
Getting Involved
Please contact Kate Welch to register your interest in attending or to suggest a theme.

kate.welch@ukfast.co.uk

0800 231 5915

@UKFastEvents
UKFast round tables bring together experts in the field of technology and the internet to take a look at how this fast-evolving industry is changing the way we all do business. Taking place twice a month, each session is based around a specific aspect of technology and business - this could be something that has recently hit the headlines, or a topic that our clients are seeking more information about.
Our round table debates bring together a diverse range of businesses and offer the opportunity for start-ups to mix with big name firms - with previous attendees including HP, VMware, Dell and Cisco as well as big brands such as the Co-op and Travelsupermarket.com.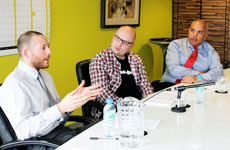 Media exposure
Each debate is filmed by our in-house film department and the videos that we produce have proven to be a fantastic source of knowledge for our clients - with the debate itself creating a fantastic learning opportunity for us all.
We post the videos on our UKFast.tv channel, our website and our YouTube channel, which has to date totalled an impressive 351,810 views. Our team also sends the videos out to our media partners, and encourage contributors to share on their own websites too.
What our experts say:

Great event and a marvellous opportunity to debate current IT developments with a group of experienced professionals from different sections of the industry

Jerry Walsh, Hewlett-Packard

A broad range of industry experts, each giving their own unique perspective. UKFast and their team made the whole event a really comfortable and enjoyable experience

Elliot Hughes, Cisco
As well as videos, our Communications Director - an ex-journalist with strong media ties - writes press releases highlighting the key points from the debate, sharing any advice that the panellists may offer. These releases are distributed across local and national media and the team's key contact lists.
In addition to all of this, contributors to the round tables have the opportunity to do a post-debate blog post to be shared on the company blog, which averages 2,000 readers a month.
To get involved or suggest a theme please contact Kate Welch, kate.welch@ukfast.co.uk or call 0800 231 5915.
Upcoming Round Tables
Advice on Choosing A Data Centre - 20th November 2013
With the rise of cloud computing, choosing a data centre to house a business's IT infrastructure is becoming an increasingly important part of any IT Manager's role. We are getting together industry experts to give impartial advice on what you should be looking for, when assessing which data centre to use.
We'll look at accreditations, the impact of location, security and any other factors which are crucial when looking at the quality of a data centre. If you're an expert on this topic and would like to discuss panel opportunities then please get in touch with Kate. However, if you'd just like to learn then follow @UKFastEvents for more information on this debate and to see the advice videos.
› Email kate.welch@ukfast.co.uk if you would like to attend
Open Source vs Proprietory December - 11th December 2013
Many developers are advocates of open source software, you don't have to fork out for costly licenses, it's constantly developed and intrinsically linked to a passionate community.
Could it really be that the days of proprietary software are over? Let's not jump the gun because Gartner's Magic Quadrant lists Oracle, Adobe, SDL, Sitecore and Ektron who all create and sell proprietary software.
So many developers and clients still crave the security and vendor support that you get from licensed software. We want to get 6 experts together to debate the merits of each to help people make more informed choices.
› Email kate.welch@ukfast.co.uk if you would like to attend
Round Table Archive
To gain knowledge and advice from our previous debates, why not take a look at our videos.
Social Engagement and Brand Personality
Who should own analytics?
Social Engagement for B2B and B2C
How is analytics growing?
Top Tips for encouraging engagement on social media
Top tips on using and understanding analytics
To view the full archive, click here