eCloud™ Private
What is Private cloud?
Private cloud is cloud infrastructure operated solely for you. Undertaking a private cloud enables you to virtualise your IT environment, achieving cost-efficiencies by consolidating physical servers and storage.
eCloud™
Private
For the first time, security, reliability and dedicated hosting combine to give you the perfect private cloud package.
eCloud Private enables your business to achieve maximum uptime with built-in redundancy, while Cisco UCS blade technology ensures performance and a 100% network guarantee. Solutions are housed in our enterprise grade UK-based data centres, which are wholly owned and operated by UKFast. With additional 24/7/365 support from our cloud experts, you have the reliability you need to succeed.
Need more information? Contact our specialists to discuss the benefits and features of private cloud and how it could help your business.
BENEFITS
Cost-effective
Reduce your capital expenditure with less hardware, software and upgrade costs. eCloud Private enables you to consolidate your physical servers without any management headaches...
Performance
Maximise the performance of your IT solution with hardware dedicated just to you. With no resource-sharing you benefit from unlimited bandwidth, best-of-breed technology and custom-built solutions designed and created by our in-house solutions architects ensuring the ultimate in private cloud performance.
Dedicated hardware
Your very own dedicated servers power as many virtual machines as you require, in any configuration you need. Flexible and fully-redundant, your virtual machines can be spread across as many hypervisors as required.
Redundancy and Reliability
eCloud ensures business continuity across the board, your eCloud Private solution is configured with a scalable structure built for redundancy.
Support
Rest assured that you have direct access to our level-three qualified support engineers 24/7/365 to provide enhanced technical assistance whenever you need it. And with our unrivalled Priority Support System, we ensure that you get the fastest resolution to your query.
Security
Defend your IT with the ultimate protection for a private cloud solution. Combining a dedicated Cisco ASA firewall, intrusion detection system, McAfee Active Virus Defence, Juniper front edge router and dedicated switches, eCloud Private ensures that your critical data is protected.
Webcelerator
eCloud Private incorporates our unique Webcelerator™ technology. Webcelerator accelerates your website and is proven to dramatically increase online sales and customer conversion.
EXPLAINED
Private Infrastructure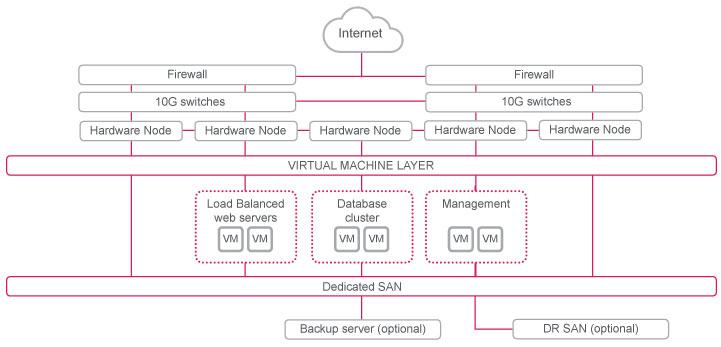 eCloud Private Infrastructure
Dedicated Cisco UCS hardware nodes
Your very own dedicated hardware nodes power as many virtual machines as you require, in any configuration you need. Flexible and fully-redundant, your virtual machines can be spread across as many hypervisors as required. The diagram shows an example of a virtual machine layer of redundant virtual machines split into different roles.
Dedicated SAN
Storing all of your data and virtual machines, your SAN storage is fully-redundant to ensure no single point of failure.
Virtualisation Platform
Our virtualisation platform utilises world-class technology from VMware. All VMware management hypervisors and VMs are launched on separate physical servers outside the UCS environment, guaranteeing disaster recovery and auto-deployment in the event of failure.
Dedicated Redundant Firewalls
Your solution is protected from external threats with your own dedicated pair of redundant firewalls, helping to ensure 100% uptime.
Dedicated Redundant Load balancers
Your own dedicated load balancers share traffic to your solution, boosting performance and removing any strain on your server.
Redundant iSCSI and Network layer
Connects all the parts of your solution and facilitates data transfer. This is your own network layer and is fully redundant to again ensure maximum uptime.
Automation is Freedom
You have the ability to provision servers, virtual machines and storage resources, this also manages the automatic customisation of the guest OS and includes the automatic creation of the relevant database records in our management systems.
You're in Control
Manage your preferences through the eCloud portal within MyUKFast. Whether you're looking to increase your RAM and storage or configure your firewall technology, MyUKFast offers a scalable and flexible service enabling you to make changes exactly when you need them.
WHAT OUR CUSTOMERS SAY
Don't just take our word for it, read what our clients have to say:
&nbsp
&nbsp
Talk to our private cloud experts today.
Call 0800 458 4545 or Request more information >