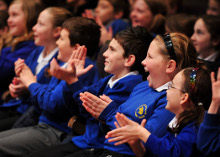 Article date: Fri, 18 May 2012 11:25:27 GMT
Technology entrepreneur Lawrence Jones is going back to his roots as a young musician in Manchester by supporting the Camerata's bid to get 2,000 school children inspired by classical music.
Jones, the CEO of hosting firm UKFast, joined the board of the Manchester Camerata in 2009 after helping the orchestra develop and host its new website. The partnership has developed since then and this May UKFast will support the orchestra as main sponsor in its Learning and Participation Scheme designed to introduce the city's youngsters to the beauty of classical music.
The orchestra, and its latest community project, is of particular interest to Jones who started his career as a classical pianist in Manchester's Midland Hotel. He set up a music entertainments business, importing grand pianos from Korea and leasing them out to venues in the UK, which he sold to Granada in 1997 before his move into hosting with his wife and business partner, Gail, in 1999.
Manchester Camerata is launching its educational campaign with a specially-presented performance of Haydn's Symphony No.94 - Surprise at The Bridgewater Hall on 23 May 2012.
The concert will be conducted by Gabor Takacs-Nagy, the world-class Hungarian music director of Manchester Camerata, and presented by composer Andy Smith. Schools are invited to send in their own lyrics to sections of Haydn's music that Smith will build into complete songs. The concert and accompanying school materials will give pupils the chance to explore Haydn's life and music as well as the history and instruments of the classical orchestra.
Bob Riley, chief executive of Manchester Camerata said "We have a great relationship with UKFast which has helped Manchester Camerata to achieve so much in the last few years, and we now have a digital presence that truly reflects the dynamism, energy and passion of the orchestra.
"We are delighted that Lawrence, Gail and the team now wish to additionally support our Learning and Participation Programme, which uses the inspirational power of music to help and inspire young people to reach their full potential. The schools concert at the Bridgewater Hall is an ideal way to start this journey for 2,000 young people."
Lawrence Jones said: "I am a firm believer in classical music being for the masses, not just for the privileged few and this initiative led by Manchester Camerata encourages just that so I am very happy that UKFast is involved as a sponsor."
Tickets for the 23 May concert are just £1 each, with all supporting materials provided free of charge. The booking form can be downloaded here and any questions addressed to learning@bridgewater-hall.co.uk.
Image courtesy of Manchester Camerata
---
print this article.
Return to Press Releases