The UKFast Network Awards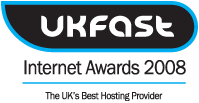 The UKFast Internet Awards held every year are a chance for UKFast clients put their company forward as the best on the Network. The 2008 Awards are now closed. Read about the 2008 winners below
Award categories are:
The winners of the 2008 awards were announced in January 09, a full list of these can be found below.
To view the winners of our previous awards please go to the Internet Awards 2007 or Internet Awards 2006.
---
Best Newcomer:
Winner - CSI Media for: www.leasing4u.co.uk
The success of Leasing4u.co.uk points towards a bright future for the UK online economy. The conviction behind the site has been highlighted by Lawrence Jones as a strong motivating factor.
"Websites today can harness technologies that allow them to compete very quickly with online leaders and CSI Media has created a site that allows this newcomer to enter the market in a very strong position."
---
Winner - Imajica for: www.imajica.co.uk
Imajica offer creative design and marketing solutions, ranging from brand building to mulitmedia campaigns. Chris Barry was impressed with the visuals giving the website a strong sense of achievement.
"When looking for a service online I want to see who else a company is working with. Testimonials and case studies are crucial within the creative sector and Imajica does more than enough to encourage you to pick up the phone and investigate further."
---
Winner - Selesti for www.holdenmobility.co.uk
The navigation on the Holden Mobility website is excellent, it is simple and easy to use and gives visitors no chance to consider that they may get a better deal elsewhere. Charlie Hodgson thought Selesti's site ticked all the right boxes.
"The site guides you directly to products you want to see. Not only are images readily available, but once clicked on, they use videos to show how products can be used. As a consumer, this is a really important part of turning visitors into customers."
---
Winner - Future Publishing for www.linuxformat.co.uk
The Linux Format website allows users to interact either with the site itself or through the site with the rest of the community. Lawrence Jones is a big fan of niche community sites punching above their weight.
"While Linux is a big subject within our industry it still has a niche audience. This site encourages contributions from all over the world. It is a key online resource for the open source OS and it understands its audience perfectly."
Highly Commended - Parkmatic Publications for www.landlordzone.co.uk
Charlie Hodgson was a strong advocate for Parkmatic's resource. "It's crammed full of diverse information, possibly everything a landlord needs to know! It didn't win the trophy because it doesn't incorporate enough interactivity with its audience. We look forward to seeing how it grows this element in the future."
---
Winner - 11 out of 10 for www.globalgizmos.co.uk
The number of websites employing e-commerce functionality has dramatically increased in the past few years. Many industries are taking advantage of this technology and are reaping the rewards.
Chris Barry judged the finalists on their range of products, ease of use and transaction process. "It was a tough choice here but we felt Global Gizmos had a streamlined yet plentiful product range coupled with a sophisticated payment process informing you all along the way of delivery times and availability."
---
Best Enterprise Ecommerce Site:
Winner - Caunce O'Hara for www.caunceohara.co.uk
The judges saw an industry leader here capitalising on the web to boost its annual turnover by more than £3.5m. "Professional insurance is a new service to find its way into the e-commerce world," said Lawrence Jones. "This site proves that with the right site and marketing plan you can sell anything online."
---
winner - Historic Futures for their product 'String' (Supply Chain Traceability)
The judges all felt that Historic Futures had made incredible steps to transforming the way consumers view manufacturing companies. Lawrence Jones said; "It's fantastic to watch a company like Historic Futures grow. They are now in talks with some of the world's biggest companies to supply 'String' and many have already signed up.
Find out more about 'String' on their website - www.historicfutures.co.uk
Highly Commended - My Job Group www.myjobgroup.co.uk
My Job Group is winning awards non-stop at the moment for breaking into a very competitive market place and delivering firm tangible results for thousands of people across the UK through their plethora of city specific sites.
---
If you'd like any more information regarding the UKFast Network Awards please contact Jonathan Bowers.