Managed Hosting
Remove the day-to-day hassle of managing, maintaining and updating your server infrastructure with our managed hosting services. By choosing UKFast for your managed hosting, you get the best in technology, service and support from a team of people who are dedicated to you - 24/7/365.
Next-generation Linux and Windows servers. High performance, security and control with UK-based support behind you 24/7/365.
Learn more >
Give your users exceptional speed and the best customer experience, while you see sales soar with UKFast's optimised servers.
Learn more >
Business-class email solutions, from mailboxes to dedicated Exchange servers, you get a turn-key email solution bespoke for your business.
Learn more >
If it's MySQL, MS SQL, Oracle or PostgreSQL hosting you need, we have the specialist skills to keep your data secure and accessible.
Learn more >
Get 'always-on' hosting with scalability and security built in from a platform that you can rely on.
Learn more >
Need bespoke hosting solutions for your clients? Earn 10% commission on your referrals and provide a guaranteed premium service.
Learn more >

Popular Dedicated servers specs
Our next-generation dedicated servers are housed in our PCI compliant data centres, supported by a UK-based tech team 24/7/365.
SERVER SPECS >
Why Choose Us
24/7/365 expert, UK-based support
Four state-of-the-art PCI compliant data centres
Superfast 10Gb network with 100% uptime guarantee
Happy customers - industry leading NPS
Rapid support with SLA+ a 15 min response and 1hr hardware replacement
Account manager dedicated to you.
Don't just take our word for it, see what our customers say >
Managed for you
Take the headache out of hosting with UKFast's range of services that are managed for you. For more info call us on 0800 458 4545.
Included every time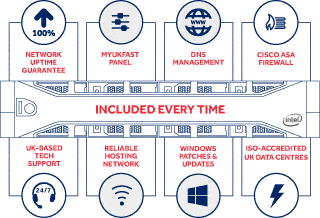 An industry-leading SLA with 100% network uptime guarantee
Optimised network infrastructure
One-hour hardware replacement
Dedicated account manager and support team
24/7/365 UK-based support
Shared Cisco ASA Firewall as standard, plus dedicated firewall upgrade options
Ability to configure your firewall rules in an instant through your MyUKFast account area.
Total control - from billing through to support - with your MyUKFast control panel.
Get A Quote >
TOTAL COVER
Combine features of Total Cover to build the perfect customised solution:
BACKUP & RESTORE: A customisable and flexible backup and restore solution.
SLA+: Get priority support with 15-min rapid response and 1hr hardware replacement guarantee.
ADVANCED MONITORING: Your hosting environment is monitored 24/7, to identify potential vulnerabilities.
ANNUAL SECURITY AUDITS: Proactively protect your servers with our annual security audit.
DATA RECOVERY INSURANCE: Suffered a failed hard drive? Immediate data recovery for minimum disruption.
BANDWIDTH INSURANCE: Protect yourself from unexpected bandwidth charges.
Our Most Popular Server Configurations
DELL POWEREDGE R210 II

Enterprise-ready, ultra-compact rack server. The R210 II has the power you need to run your business and the scalability to help it grow.

DELL POWEREDGE R620

Performance-packed server. Dramatically boost application performance with the latest Intel Xeon processors enabling super-fast processing for compute-intensive tasks. With impressive I/O capabilities, you benefit from balanced, scalable I/O features.

NEXT GENERATION POWEREDGE SERVERS

At UKFast, all of our dedicated server customers benefit from high-performance Dell PowerEdge servers. The PowerEdge range combines performance and scalability; the servers handle tough workloads for businesses of all sizes, and ensure that you harness the benefits of the latest technology.
GO FASTER WITH SSD AS STANDARD

All of our servers are implemented with solid state drives (SSDs) as standard! Experience exceptional performance - even with applications requiring high random read IOPs.

SUPER-FAST NETWORK

UKFast's multi-10Gb network with multi-homing delivers a fast and fail-safe route to the Internet. With UKFast data centres available in multiple locations, connected to multiple transit and peering connections we guarantee both 100% network uptime and high-performance.

STATE-OF-THE-ART DATA CENTRES

Your server is housed in one of our UK-based, ISO-accredited data centres. Built to the highest-industry standards, you benefit from a best-of-breed, enterprise-grade infrastructure. Rest assured that your server or IT infrastructure is optimised for extraordinary performance, and enjoy peace of mind that your IT is safe and secure.
Read how our customers are achieving success with UKFast. We'll let our clients do the talking...

We're entirely reliant on UKFast; without its services, we literally couldn't function.


Evolutia

We rely on UKFast for infrastructure which delivers the solutions sold to our clients. A huge amount of data has to be protected, not just from a security viewpoint, but also a resilience viewpoint.


Kallik

I work with about 40 different hosting providers; UKFast is by far the best I've ever had.


Red Flush Online
YES, I'M INTERESTED

If you are interested in finding out more information about managed hosting, why not get in touch? Speak to one of our hosting specialists by calling us on 0800 458 4545.

Get More Info

Simply fill in your details and we'll talk through what you are looking for and everything you need to know about managed hosting.

POPULAR SPECIFICATIONS

Learn more about our Linux servers

Learn more about our Windows servers